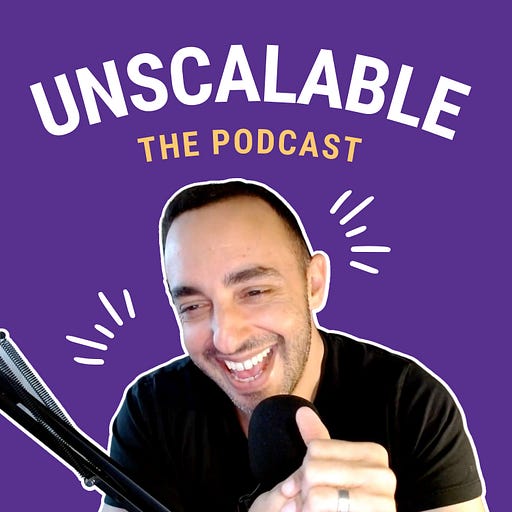 Jul 15, 2021 • 19M
How To Work With Your Spouse & Not Ruin Your Marriage In The Process
We live in a world where everyone is trying to gain a competitive edge through automation, bots, and AI. But, since launching Sendible 13 years ago, I've discovered that to truly stand out, the best strategy is to focus on the more human things – the "unscalable". So, if you're looking for a fresh perspective on how to be truly memorable in a noisy world, then this is the podcast for you. Tune in every week for short, actionable, and unscalable tactics that you can use in your business today.
Gavin founded Sendible back in 2009 and after the company took off, Martine quit her teaching job to join him in the company.
In this episode, recorded prior to Sendible's acquisition, we talk about:
Why Gavin broke the "no friends and family rule" to allow Martine in. 

Why Gavin created a fake employee and made Martine use her maiden name at work. 

Some of the mistakes Gavin would've made if Martine hadn't been involved. 

The rules Gavin put in place to ensure Sendible didn't become a family business. 

The pros and cons of working with your spouse. 

And much much more...
We want to hear from you