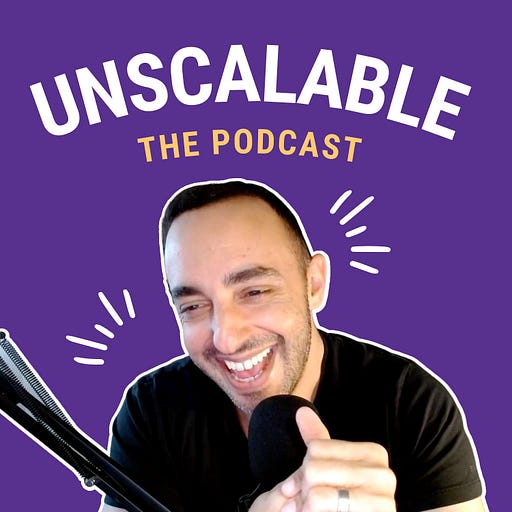 Jan 10 • 45M
How to Use AI to Boost Your Social Media Engagement with Kate Bradley Chernis
We live in a world where everyone is trying to gain a competitive edge through automation, bots, and AI. But, since launching Sendible 13 years ago, I've discovered that to truly stand out, the best strategy is to focus on the more human things – the "unscalable". So, if you're looking for a fresh perspective on how to be truly memorable in a noisy world, then this is the podcast for you. Tune in every week for short, actionable, and unscalable tactics that you can use in your business today.
Kate Bradley Chernis is the Founder & CEO of Lately, which uses AI to generate high-engaging content in your unique brand voice that is customized to target any audience. As a former rock 'n' roll dj, Kate served 20 million listeners as Music Director and on-air host at Sirius/XM.
In this episode, Kate talks about:
How Lately uses AI to help customers produce content.

How she helped Gary Vee get a 12000% increase in engagement.

How Lately achieves a 98% sales conversion rate.

What she would do differently if she were starting a new tech company now.

Her thoughts on the future of AI.
🎧 Listen now on Spotify, Apple, or search "Unscalable" in your podcast app.
▶️ Or, watch on Youtube.
---
Links mentioned on the show
---
Thanks to StoryPrompt (our sponsor).  StoryPrompt is the easiest way to send and collect personal videos. Capturing stories, testimonials, and updates is as simple as sharing a link. Sign up for free.