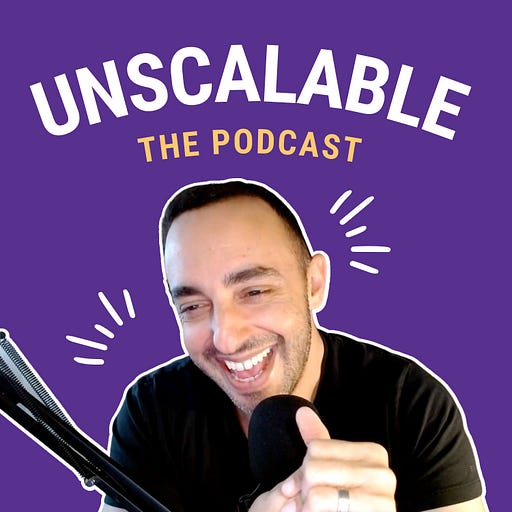 Jan 26 • 31M
How Jeremy Moser Boosted Monday.com's Traffic by 1,570%
We live in a world where everyone is trying to gain a competitive edge through automation, bots, and AI. But, since launching Sendible 13 years ago, I've discovered that to truly stand out, the best strategy is to focus on the more human things – the "unscalable". So, if you're looking for a fresh perspective on how to be truly memorable in a noisy world, then this is the podcast for you. Tune in every week for short, actionable, and unscalable tactics that you can use in your business today.
Jeremy Moser is an entrepreneur and CEO of uSERP, a 35+ person SEO firm serving high-growth technology companies like Monday.com, Robinhood, and more.
In this episode, Jeremy talks about:
How he went about getting case studies for uSERP in the early days.

How his agency increased Monday.com's traffic by 1,570% with SEO.

The new marketing trends he's most excited about.

How SEO and short-form video works together.
🎧 Listen now on Spotify, Apple, or search "Unscalable" in your podcast app.
▶️ Or, watch on YouTube.
---
Links mentioned on the show
---
Thanks to StoryPrompt (our sponsor).  StoryPrompt helps you boost customer loyalty and engagement using asynchronous video. Capturing stories, testimonials, and attention is as simple as sharing a link. Sign up to get 20% off all plans.