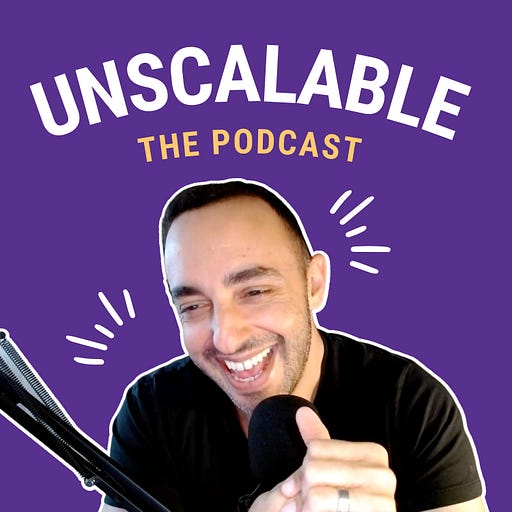 Jan 17, 2022 • 26M
How to Humanize Your Brand & Attract Customers Using Video with Rob Balasabas
We live in a world where everyone is trying to gain a competitive edge through automation, bots, and AI. But, since launching Sendible 13 years ago, I've discovered that to truly stand out, the best strategy is to focus on the more human things – the "unscalable". So, if you're looking for a fresh perspective on how to be truly memorable in a noisy world, then this is the podcast for you. Tune in every week for short, actionable, and unscalable tactics that you can use in your business today.
Rob Balasabas is the Head of Partnerships at Uscreen. Rob was previously at TubeBuddy and is well known for his expertise in video marketing.

In this episode, Rob talks about: 
How your business can stand out in a crowded space using video

Why video is the best vehicle to connect with your customers

How to get comfortable on video

The storytelling formula that "just works" on video
Plus, Rob shares his process for coming up with new video ideas every week.
--

Connect with Rob on LinkedIn and YouTube
https://www.linkedin.com/in/robbalasabas/
https://www.youtube.com/channel/UCfqqB7r1PEOaLVY43i-KEfA