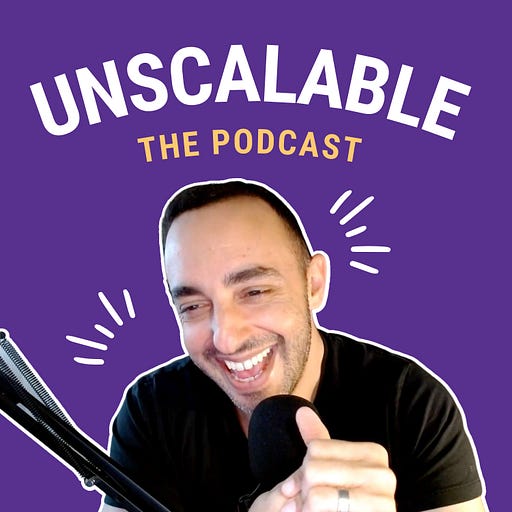 Sep 2, 2021 • 26M
How Generosity Can Fuel Your Company's Growth with TubeBuddy's Phil Starkovich
We live in a world where everyone is trying to gain a competitive edge through automation, bots, and AI. But, since launching Sendible 13 years ago, I've discovered that to truly stand out, the best strategy is to focus on the more human things – the "unscalable". So, if you're looking for a fresh perspective on how to be truly memorable in a noisy world, then this is the podcast for you. Tune in every week for short, actionable, and unscalable tactics that you can use in your business today.
Phil Starkovich is co-founder of TubeBuddy, a productivity tool for YouTube. TubeBuddy was acquired in October 2020 and Phil attributes a lot of their success to the fact that he operated the business in a very generous way.  Instead of maximising revenues, he chose to give discounts and free upgrades. As a result, TubeBuddy attracted the attention of YouTube experts and educators who helped them reach exponentially more customers.
In this episode, Phil talks about:
Why he decided to start TubeBuddy back in 2014

What led to him deciding to sell the company 

The mental models he adopted to face this life-changing event

The pivotal things he did as CEO that resulted in TubeBuddy's success

What he'll be doing next
Plus, Phil shares why he put his energy into building real relationships in an unscalable way and how it led to TubeBuddy's amazing growth.

--

Connect with Phil on Linkedin.
Install TubeBuddy to grow your YouTube channel faster.